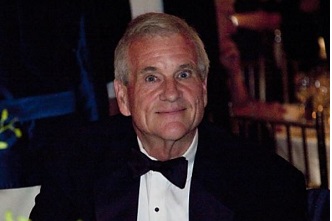 By the Family

Sep. 5, 2018: Former Bronxville resident Brian C. Harriss died on August 16, 2018.
He was born in Manhattan on February 13, 1949, and grew up in Bronxville. He attended the Bronxville public schools, graduating from high school in 1967. He was a proud member of the BHS Broncos football team that won thirty consecutive victories.
He graduated from Harvard University (AB, 1971) and obtained an MBA (1974) and a JD (1975) from Columbia University, thereafter practicing as a financial officer and chief financial officer at prominent consumer product companies. 
While at PepsiCo, he and his family lived at times in Canada and Australia. Thereafter, they lived on Sunny Brae (Bronxville) for several years before moving in the early '90s to a London suburb while he was with Cadbury Schweppes. The family moved to Greenwich, Connecticut, upon returning to the USA in 1994 and continue to live there. 
Originally a passionate jogger, then tennis player (he won the Single Men's Championship at Bronxville Field Club in 1996), he became an equally committed golfer for the last several decades, even writing and publishing a book (The Foursome Follies) celebrating the sport. 
Although recently retired as the chief financial officer of Turning Point Brands, he continued to consult for the company. He passed away at his office, looking forward to a weekly bridge game with his children that evening and an annual golf tournament the coming weekend.
He is survived by his wife of 39 years, Lucinda Acer Harriss; his sons, Brett (Monica) and Peter, and daughter, Lindsey; his grandchildren, Blake, Blair, and Graysen; his brother, Gordon Harriss (Elizabeth) of Village Lane, Bronxville; and his twin sister, Martha Harriss (NYC). His parents, Professor C. Lowell and Agnes Murphy Harriss, and sister, Patricia Harriss, are predeceased. The family resided at Plateau Circle in Bronxville for 60 years.
A reception celebrating his life will be held on September 7 from 2:00 to 5:00 pm at The Millbrook Club, 61 Woodside Dr., Greenwich, CT. In lieu of flowers, a plant – a living memorial – would be appreciated.