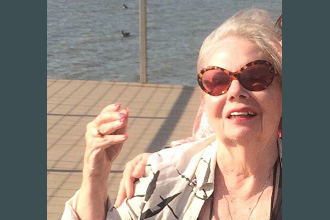 By the Family

Jul. 18, 2018: Longtime resident of Bronxville Pam Wace Lalumia passed away peacefully just after midnight on July 5, 2018. Born Pamela Evelyn Wace on October 16, 1931, in Toronto, Ontario, she was the daughter of an Englishman, Richard Gurth Wace, and Grace Milliken, born in Georgia of Irish and Scottish descent.
After an early childhood in Canada and teenage years in Tampa, Florida, Pam spent two years at Duke University in North Carolina. She then transferred to Parsons School of Art and Design in Manhattan. She graduated in 1954 and became what was then called an interior decorator.
Pam met Tom Lalumia in 1959 on a blind date in New York City. They married the next year at St Thomas's Church on Fifth Avenue in New York City on April 9, 1960. After their honeymoon, they moved to Bronxville, where they raised their three children, Chris, Tim, and Liz. Pam embraced village life and made some very good friends over her 50+ years in Bronxville. She embraced all aspects of the artistic and cultural life and history of the village and reveled in the fact that she was an artist living in what had been an artist colony in the late 19th century.
She was a devout member of the congregation at Christ Church for decades (including serving on the vestry); a member and bright light of the Boulder Ledge Garden Club, at one point serving as president; the leader of a Girl Scout group; an active member of the League for Service; a volunteer at the soup kitchen in Mount Vernon; and a real estate broker in Bronxville: in this she surprised herself and did well, in part owing to her honesty and ability to see the potential of any interior or garden. In later years, Pam found creative and intellectual fulfillment in horticultural pursuits, becoming an admired flower arranger and also a life judge for Horticulture in New York State.
She is survived by her daughter Christine Anne Lalumia and son-in-law, Pepin Clout, of London, England; daughter Elizabeth Jennifer Lalumia of Dobbs Ferry, NY; grandchildren Trevor Lalumia and Eve Yvonne Lalumia of Manhattan and their mother Mary Arch; her sister, Daphne Jane Wace, and brother, Stephen Wace, both of Canada. She was preceded in death by her husband, Edward Joseph Lalumia, and her beloved son, Timothy Wace Lalumia.
Contributions in memory of Pam can be made to Calvary Hospital HOSPICE FUND, 1740 Eastchester Road, Bronx, NY 10461.