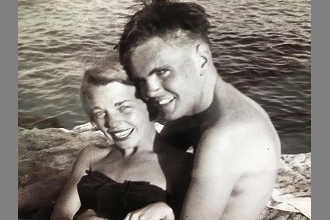 By Anne R. Noble, daughter

Jul. 18, 2018:  Norma Jean Rowell Noble—a longtime Bronxville resident who taught two generations of children at Chapel School—died peacefully at home, surrounded by her children, on July 3, 2018, after a brief illness. She was 88 years old.
Norma Jean ("NJ" or "Nini" to her family) was born in Derby Line, Vermont, on December 11, 1929, on the American side of a house that straddled the U.S.-Canadian border. She grew up in Wells River, Vermont, and was first in her class of seven at Wells River High School. At the age of nine, she joined McClure's Band, a regional traveling marching band, where she played the clarinet and then became their majorette. In 1939, McClure traveled to New York to the World's Fair, where NJ was the youngest majorette to perform. In 1946, she led the parade of returning World War II soldiers at the Fourth of July celebration in Burlington, VT.
NJ received a bachelor of science degree from Russell Sage College on June 3, 1951, and married Ensign James Kendrick Noble, Jr. (USNA '50), at the Pensacola Naval Air Station Chapel thirteen days later. They had met at a wedding of mutual friends the summer before and became engaged in Charleston, South Carolina (where Ken was on shore leave), on their third date. 
Over the course of the next seven years, NJ and Ken were stationed in Florida, Texas, Virginia, Maine, California, Rhode Island, and Maryland.  While in Florida, NJ taught fourth grade in rural Alabama; in Maryland, she traveled the state demonstrating the latest kitchen appliances at county fairs and other locations for the Southern Maryland Electric Cooperative. Daughter Anne was born at the United States Naval Academy in 1957, where Ken was teaching aeronautical engineering.
In 1958, Ken retired from active duty to join his family's publishing business in New York, and he and NJ moved to Bronxville. Son Rick was born in Bronxville in 1959.
Anne and Rick both attended The Bronxville School from Kindergarten through graduation.
In the 1960s, NJ was active in the Bronxville Junior League and as a volunteer at The Reformed Church, the PTA, and the Lawrence Hospital Auxiliary. She was also a member of the board of directors of the Julia Dyckman Andrus Memorial Children's Home.
While remaining active in community affairs, NJ returned to school, earning her MAT from Manhattanville College and most credits toward a PhD in childhood psychololgy from Columbia University. She then joined the faculty of Chapel School and taught second grade for nearly three decades, educating two generations of children. She also taught children's literature at Concordia College in Bronxville. There were few things that gave her greater joy than unlocking the magic of reading for young learners. 
NJ's love of young people was also evident in the welcome she provided to so many students at The Bronxville School while Anne and Rick were students there. Ken and NJ's home on Edgewood Lane was a frequent site for school events, sports and drama dinners, and after parties, and NJ always made herself available to Anne's and Rick's friends for confidential talks in her kitchen about just about anything. For years, Ken and NJ hosted a Christmas Eve open house to which all were invited. 
Rick and his wife, Karen, moved to Bronxville in 1988, and NJ's beloved granddaughters, Kate and Sarah, both attended Chapel School while their grandmother was still teaching there.
In 1996, Ken and NJ retired to Port Aransas, Texas. They later followed Rick and Karen to Rancho Santa Fe, California. Ken died in January 2000.
For the past 18 years, NJ and Anne lived together in Washington, D.C., and Northern Virginia. NJ was thrilled when her granddaughters came East for college. She spent a great deal of time with Kate and her friends at George Washington University and with Sarah and her friends at Middlebury College, earning another generation of confidantes and admirers. 
NJ enjoyed the ballet, opera, and symphony at the Kennedy Center, was a devoted reader of the Washington Post and books by a wide range of authors, and never missed a game played by her treasured Navy football team. She traveled frequently to Middlebury to watch Sarah's championship soccer team and spent many happy Christmases with Rick, Karen, Kate, and Sarah in California. Nothing meant more to her than spending time with her family.
At the time of her death, she was looking forward to a long-planned trip to San Diego (to see Navy take on Notre Dame), to San Francisco to visit her dear friend of 60 years, Mildie Whedon, and to Big Sur for a family celebration of milestone birthdays at the Post Ranch Inn.
NJ is survived by her daughter, Anne, of Alexandria, VA; by her son, Rick, and her daughter-in-law, Karen, of Rancho Santa Fe, CA; by her granddaughters, Kate and Sarah, of Santa Monica, CA; and by her sister Sula, of Tempe, AZ. She also leaves behind two brothers-in-law, Doug and Bill, two sisters-in-law, Betty and Jean, seven nieces and nephews, and fifteen great-nieces and great-nephews. She was predeceased by her grandson, Tad, her parents, Lewis and Dorothy Rowell, her brother, Reg, her sister-in-law Virginia, and her niece Judy. She is deeply mourned by the scores of friends of all ages that she made in all the places she lived and visited.
A celebration of NJ's exquisite life and legacy will take place at The Reformed Church in Bronxville at 11:00 am on Saturday, August 25, 2018. She will be interred next to Ken, her cherished husband of 48 years, and to her beloved grandson, Tad, in Wells River, Vermont, in September.
In lieu of flowers, her family would appreciate donations to the Faustman Lab at Massachusetts General Hospital, which is researching promising leads toward a cure for Type 1 diabetes (https://www.faustmanlab.org/donate/).
She brought joy to all of our lives and we will always miss her.
Pictured here:  Norma Jean and Ken Noble in Malta, 1953.

Photo courtesy the family