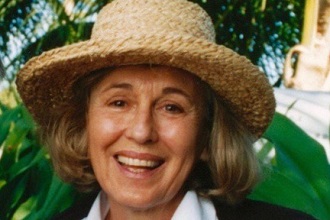 By the Family

Jul. 18, 2018: Rosemary Schooler Palmer, longtime resident of Bronxville, died peacefully in her sleep at Greenwich Hospital on the afternoon of July 3, 2018. She was 90 years old.
Rosemary was born at home in Faith, South Dakota, on November 30, 1927, to Harry Norris Schooler and his wife, Theresa Ripple Schooler. She was their fourth of five children.
Rosemary's father worked in the Department of Agriculture's Farm Bureau (now known as the Farm Service Agency). When she was a middle school girl, he moved the family to Washington, DC, where he worked at the federal level for the department. Rosemary loved living near the nation's capital, especially roller skating under the cherry blossoms surrounding the Reflecting Pool and window shopping at the enormous department stores.
The family moved back to Minnesota, where Rosemary entered the University of Minnesota, from which she graduated in 1949. Also in her class was a WWII Army Air Corps veteran by the name of George B. Palmer, Jr  They were fixed up by a friend of hers and married very shortly after graduation.
They moved to Boston so that George could study at the Harvard Business School on the G.I. Bill. They then moved to Lincoln, MA, and raised a family there. Rosemary was very active in the Junior League and most enjoyed working at public television in Boston for Julia Child's cooking show. She and her volunteer colleagues got to sit down to delicious meals prepared by the charming chef on national television after they had finished cleaning the kitchen.
In 1964, the family moved to Bronxville. Rosemary remained active in the Junior League. One of her most satisfying achievements was the establishment of a preschool program in Mount Vernon to prepare underserved children for entry into kindergarten, a prototype of Head Start. Betty Shabazz, wife of Malcolm X and a civil rights activist herself, served on the board of the school.
Rosemary enjoyed her involvement with many organizations. She was the president of the Bronxville Junior League, head of the Friends of the Library at Sarah Lawrence College, a longtime member of the Parents Committee at Williams College, and president of Nondescript and the Bronxville women's book club.
She was also an avid tennis player. Rosemary was proud of having recruited Jaime De Carvalho as head tennis professional at the Bronxville Field Club. She played team tennis for many years, with at least one stint as captain. She also had a winter tennis group with whom she played happily for upwards of 40 years.
Her great joys were her 68-year marriage, her four children, their spouses, and her seven grandchildren. Shortly before her death, she commended one of her kids for his cleverness in managing a problem. "It just goes to show you how resourceful all of our children are," she declared with satisfaction.
The family will hold a private memorial service in August. Contributions in honor of both Rosemary and her husband, George, who predeceased her by two months, may be made to GreenwichChaplaincy.org or Greenwich Chaplaincy Services, 70 Parsonage Road, Greenwich, CT 06830.