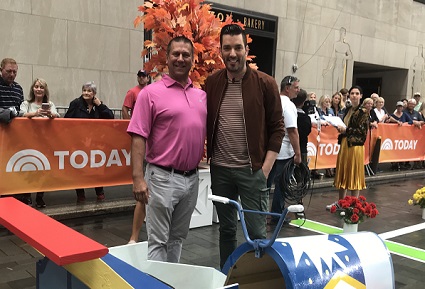 By Staff
Sep. 25, 2019:  On Tuesday, September 10, Artie Lange of Arthur Lange, Inc. was part of an NBC Today Show segment with the Property Brothers to promote the brothers' new children's book Builder Brothers.
Artie met Jonathan and Drew Scott (the Property Brothers) three years ago when his construction company, Arthur Lange Inc., participated in four episodes of Property Brothers Buying & Selling on HGTV. The shows were a big success, and Artie and the Scotts have stayed in close touch.
To help promote their new children's book, the Scott brothers requested that Artie and his staff create matching derby cars to be used in a race in which NBC morning anchors' cars were pushed by the brothers in a race. 
When asked what he liked most about the event, Artie said, "I think it was classy of Jonathan and Drew Scott to invite me on the plaza of the Today Show to watch the event close up. It was a close second to the shout-out on national TV. I truly enjoyed the experience."
Click here to see a video of the race.  You'll hear Drew Scott of the Property Brothers thank Artie and his team for their help building the cars.
Pictured here:  Artie Lange and Jonathan Scott.
Photos courtesy Artie Lange