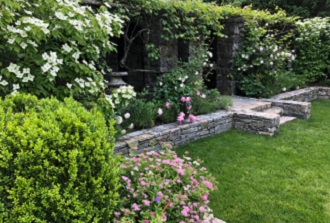 By Maggie Monahan-Bopp, Member, Bronxville Beautification Council
May 22, 2019:  On Sunday, June 9, from 4:00 to 6:00, the Bronxville Beautification Council (the "BBC") will be holding its second biannual garden party. The concept of mingling with friends, neighbors, and other garden enthusiasts while sampling hors d'oeuvres and summer cocktails in the atmosphere of a beautiful Bronxville garden was conceived in 2017. This year, local landscape designer Jennifer Colao and her husband, Andrew Colao, have offered the use of their exceptional historical garden on Beechwood Road as the venue for the event. Students will provide chamber music as guests explore the garden. 
The Colaos' garden is no ordinary one. The house on Beechwood was built by Louise Beebe Wilder, who ranks among the 20th century's greatest horticulturists. Author of over ten books on the subject, including Adventures in a Suburban Garden (1931), written specifically about the Beechwood garden, Wilder is considered by many to be America's greatest garden writer. Wilder and her architect husband designed and built the house around 1922. Wilder transformed the wild, one-acre property into a Garden of Eden, with a long grape arbor and stone pillars that still stand today (though most of those, along with the rest of the garden, have been reconstructed by the Colao family). Wilder also designed the landscaping around Bronxville's railroad station, a project maintained today by the BBC.
For further information or to purchase tickets for the garden party, email  CLOAKING or call 414-232-9998. Proceeds go to the BBC, a nonprofit volunteer organization that maintains numerous beautification projects in the business district of Bronxville, including the banks of the railroad underpass, the circle near Lawrence Hospital, and the beautiful flower-filled triangles and new pots on Pondfield Road.  Please join the BBC on the afternoon of June 9 and help us keep Bronxville beautiful.
Pictured here: The Colaos' garden.
Photo courtesy the Colao family
Editor's note: As a public service, MyhometownBronxville publishes articles from local institutions, officeholders, and individuals. MyhometownBronxville does not fact-check statements therein, and any opinions expressed therein do not necessarily reflect the thinking of its staff.