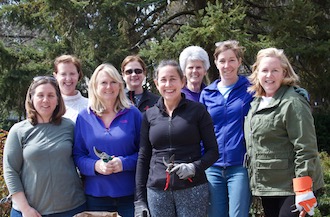 By Staff

May 9, 2018:  Members of the Boulder Ledge Garden Club ("BLGC") met at Bronxville's Bicentennial Park on Tuesday, April 26, for its annual spring pruning and planting preparations.  
Ani Adishian, owner of Flora Landscape and designer of Bicentennial Park, was present to guide club members on pruning and care for the park's plants, shrubs, and trees.
New Bronxville Tree Fund:  The Boulder Ledge Garden Club is also pleased to announce the creation of the Bronxville Tree Fund. Bronxville is celebrated for its natural beauty, and trees are integral to its charm and the healthy lifestyle of all of its inhabitants. After consulting with Mayor Mary Marvin, BLGC learned that although the village has lost over 100 trees since 2012, there is currently no budget or plan to replace them.
In recognition of Arbor Day, Friday, April 27, Boulder Ledge Garden Club kicked off an ongoing campaign for the tree fund with a leadership gift from the club to plant the first ten trees. This initial planting will focus on replacing trees lost in the business core of the village.
We are reaching out to you and the community at large with the request that you please participate by making a gift to the Bronxville Tree Fund. Checks can be made out to the Boulder Ledge Garden Club and mailed to PO Box 64, Bronxville, NY 10708.
Pictured here (L to R): Ani Adishian, Lisa Harrington, Margaret Conaton, Sharon Parson, Jane Scotti, Marty Meserole, Eileen Marshall, and Sarah Vorbac.

Photo by N. Bower

Editor's note: A member of the staff of MyhometownBronxville is a member of the Boulder Ledge Garden Club.