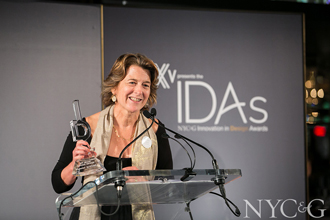 By Staff, NYC&G Innovation in Design Awards

Nov. 1, 2017:  Longtime Bronxville resident landscape architect Renée Byers was the recipient of the 2017 Innovation in Design Award for Garden Design presented by New York Cottages and Gardens ("NYC&G") magazine at an awards gala at the Rainbow Room in New York City on October 16, 2017.
Her winning project, Hudson Valley Retreat, included a swimming pool and gardens set into a steep hillside for a country home overlooking the Catskills and was chosen from five finalists. She spoke briefly after accepting the award to thank her clients and team of craftsmen, as well as the NYC&G and its judges for recognizing her work and for organizing an event that showcases the creativity of the New York design community. Over the last twenty years, her firm, Renée Byers Landscape Architect, P.C., has designed dozens of gardens in Bronxville and works throughout New York, Connecticut, and the Hamptons.
The NYC&G Innovation in Design Awards honor top design in New York and are presented annually. The categories are architecture, interior design, kitchen and bath design, garden design, product design, and small spaces. Design submissions are judged by a panel of judges who are key influencers in the design industry of their respective fields. This year's panel included Matthew Patrick Smyth, interior designer; Roger Ferris, AIA, RIBA; Alison Spear, AIA; Caleb Anderson, interior designer; and Judy Ross.
Each year, NYC&G also presents an Innovator Award to an icon of the design industry--one individual who has achieved an overarching level of innovation and excellence. This year's Innovator was Donna Karan, who was honored at the event not only for her position as one of the world's most influential designers but also for her humanitarian and philanthropic efforts for relief work in Haiti. A recipient of the 2012 Clinton Global Citizen Award, Karan spoke of her firm belief that through creativity, connection, collaboration, and community, one can help change the world.
Pictured here:  Renée Byers accepting her NYC&G Innovation in Design Award.
Photo by Landino Photo for NYC&G